Why Unified Commerce is a Game Changer for Retailers

Today's ultra-competitive environment presents a unique opportunity for nimble mid-market retailers to outperform the competition. Consumers are rewarding merchants that offer their desired unified shopping experiences. In turn, retail leaders are seeing how unified commerce translates to profits through increased sales and operational efficiencies.
IN THIS ARTICLE
Omnichannel Retail vs. Unified Commerce
Retailers are Still Chasing Omnichannel while Customers Demand Unified Commerce
The Top 3 Benefits of Unified Commerce
Finding Your Unified Commerce Solution
Of course, everyone is talking about omnichannel retail and unified commerce, often interchanging the terms and wavering on the accurate definitions of each. The crucial differences between the two will set the winners apart.
Let's look at how the pandemic accelerated a shift toward omnichannel retail. Suddenly, long-term projects to integrate disparate systems and consolidate channel silos became top priorities. Technical and operational complexities began to surface.
Retailers with sound digital strategies began pulling technology projects forward. Many have struggled to keep pace, while some have fallen behind entirely. And two years later, technical barriers continue to hold many retailers back.
This challenge is summarized well by EY as they explore how retailers are using retail software to meet consumers' growing demands. "Putting new and emerging technologies as bolt-ons to legacy infrastructure will only slow things down and make experiences worse. Too many retailers struggle with integrating new technologies with old systems."
Fortunately, modern retail software presents alternatives.
Continue reading to explore these two strategies and see the steps growth-oriented retailers are taking to exploit the differences.
Omnichannel Retail vs.
Unified Commerce
Omnichannel retail and unified commerce are related approaches with stark distinctions. Omnichannel offers a clear improvement over multichannel. But the benefits of unified commerce dwarf those of omnichannel.
While most retailers are slowly integrating their way toward omnichannel, growth-oriented retailers are moving beyond. They are moving from disparate retail software systems to unified commerce platforms, positively impacting their customers, employees, and bottom line.
This UK Ecommerce Association article describes omnichannel retail as an integrated approach that links channels (retail stores, websites, marketplaces, social, and more). It can, therefore, communicate between channels and offer customer experiences within and between them.
In contrast, they say that unified commerce creates a seamless and consistent customer experience across all channels. By harmonizing all channels, payment systems, products, and customer data, retailers can deliver a fully integrated, measurable, and frictionless experience. Gartner expands on this, saying that unified commerce is the practice of providing flexibility, continuity, and consistency across digital and physical channels to deliver a superior customer experience.
In other words, omnichannel retail links silos, disconnected systems, and channels. On the other hand, unified commerce combines all back-end systems with all customer-facing channels. This allows crucial data to travel across systems in real-time while maintaining updated and accurate information.
As a result, unified commerce enables consumers to easily shop, buy, receive, and return items while weaving in and out of their chosen channels. With unified commerce, you get omnichannel retail and much more.
Most notably, the customer sits at the center of a Unified Commerce experience.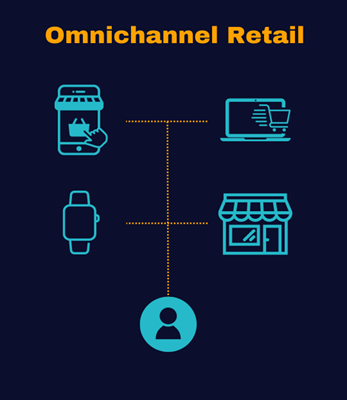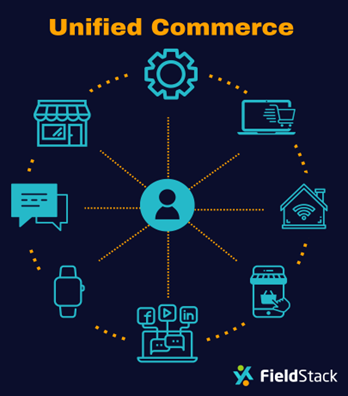 Regional and mid-market retailers stand to gain a significant competitive advantage by seizing the opportunities presented by unified commerce and modern retail software. Unified commerce fulfills the promise of harmonious shopping experiences, enabled through truly connected systems and a single real-time data source.
Unified retail management platforms like FieldStack drive all transactions from one database updated in real-time. They leverage data collection points that span operations and capture every customer interaction. Products, stock, order status, and other data are constantly shared across channels, allowing for an exceptionally efficient and relevant shopping journey with data, analytics, and automation at the core.
Consumers have been chasing multichannel and omnichannel experiences for years. Now they want more. And retailers need an easier way to deliver these enhanced experiences for customers and employees.
With the help of modern retail management software, retailers are delivering on the promises of omnichannel, unified commerce, and more. FieldStack positions retailers with the capabilities they need today and the assurance of staying ahead of what their customers will want tomorrow. With accelerated implementations, regional retailers can achieve this reality in as little as 4 months.
Retailers are Still Chasing Omnichannel

while Customers Demand Unified Commerce

Most retail sales still involve stores, and online channels influence most in-store purchases. Consumers are shopping across channels. And increasingly, they expect a seamless path through their chosen channels, with an accurate view of product information, stock positions, and purchase history. These expectations have become must-haves and will no doubt persist.

Most retailers today claim omnichannel success, but this is only partially true. Many retailers still struggle to deliver essential omnichannel services consistently and efficiently. With disconnected systems, essential services like inventory transparency, in-store pickup, and ship-from-store are burdensome.

The stakes are higher than ever. Businesses have seen customer attrition, lost sales, and profit erosion --- all while claiming "omnichannel success."

If this sounds familiar, you are certainly not alone. Legacy retail software has let retailers down in this regard. And their customers and employees are feeling the pain.




According to the 32nd RIS Technology Study, retailers are paying the price. Top retail challenges in 2022 include application integration, decommissioning old systems, and consolidating channel silos. All while striving to deliver a cohesive shopping, buying, and receiving experience for their customers.

Retailers have been left with the burden of cobbling systems together as they trudge the road toward omnichannel and unified commerce. Fortunately, retail software has evolved, and there is now an alternative.

And the effect has been substantial for retailers that have leveraged modern technology to accelerate their transformation to unified commerce success.
The Top 3 Benefits

of Unified Commerce

Retailers win with unified commerce by leveraging real-time customer and operational data within a truly unified retail management system. The magic happens when real-time data drives predictive modeling, machine learning, automated inventory, and advanced analytics.

This results in several benefits:
1. Increase sales by
exceeding customer expectations

.

Unified commerce makes life easier for the consumer and brings simplicity to the retailer. And sales increase when we provide highly personalized, relevant, and frictionless customer experiences.

Today's customers expect to shop, purchase, and return goods seamlessly across sales channels. Conveniences like self-checkout, in-aisle check-out, and enhanced loyalty programs drive sales further. Unified commerce solutions like the FieldStack Lean Retail platform make it easy to deliver such capabilities.

Beyond convenience, unified commerce adds a sense of magic that builds sales. Unified commerce uses insights and automation to ensure that shelves are stocked with the items that consumers desire. An effective platform helps you stock the correct items at the right time, location, and price. At the same time, you'll benefit from optimized inventories based on seasonality, regional preferences, single-store tendencies, and other predictive information.
2. Reduce costs by
simplifying operations

.

Unified commerce brings efficiency to retail operations. FieldStack's unified commerce platform applies lean retail principles to manage the efficiency and flow of resources. Lean retail enables mid-market retailers to optimize operations and win against online and global retailers. Specifically, FieldStack clients win on product availability, convenience, and the overall value they provide.
By harmonizing all channels, payment systems, products, and customer data, retailers can deliver a fully integrated, measurable, and frictionless experience.
Our clients meet their customer's expectations while efficiently managing orders, thanks to real-time visibility, automated inventory management, and more. In addition, they are freeing up capital by improving inventory turns, reducing out-of-stocks, and eliminating slow sellers.
3. Focus on customers and growth — by
streamlining technology

.

McKinsey points out that retail organizations "face an urgent need to overhaul their tech architecture and operating model to keep pace with the changing landscape. Many retailers still spend significant resources on legacy systems and software — also known as keep systems running expenses. And this tech debt is crowding out investments in strategic priorities that would generate business value…".

Deloitte's 2022 Retail Industry Outlook further emphasizes this point. "In general, legacy technologies that retailers run in-store cannot support future-facing customer and associate needs. And ultimately, they may create unacceptable operational risk."
Retail Requires
Speed and Adaptability
Forward-thinking retailers using SaaS-based unified commerce solutions avoid the ongoing burden of integrating and upgrading disparate systems. These SaaS-based systems continuously provide new client-driven functionalities. And the merchants enjoy predictable IT expenses alongside these consumer-centric advances.
Unified commerce uses advanced computing technology, and its adoption is further simplified using a highly scalable platform. This means that you and your staff will focus on customers and growth strategies rather than just keeping your systems running.
Change the Game

by Finding Your Unified Commerce Solution

Today, a unified commerce platform is within reach for almost any retailer. From pet specialty to hardware, from books to electronics, regional and mid-market retailers are replacing their cobbled legacy software stacks and implementing cloud-based unified commerce platforms. With immediate returns and continuous enhancements included, this approach positions retailers with the agility needed for long-term success.

FieldStack's retail management software is the unified commerce platform of choice for mid-market retailers who want to grow. It integrates point of sale (POS), eCommerce, and loyalty with an automated chain-wide inventory, supply chain, and analytics to fuel growth and profitability.

Experience our free Lean Retail Web Class to learn how you can achieve unified commerce perfection and more.
Harness Your Competitive Advantage
Experience our free Lean Retail Web Class
Learn More