3 Indications That It's Time to Consider a Unified Commerce Platform

As retailers evaluate their technology investments for 2023 and beyond, many will consider the transformative impact a unified retail technology stack might have on their journey toward unified commerce.
IN THIS ARTICLE
Retailers are Working Hard to Deliver a Unified Commerce Experience
Is Unified Commerce Possible Without a Unified Technology Platform?
Is Unified Commerce Your Opportunity for Differentiation?
3 Considerations to Help You Know When to Go Unified
How to Accelerate Your Path to Unified
This article shares some key considerations for retail leaders as they determine their strategic retail software direction. This may involve the traditional approach of acquiring and integrating their next single-point solution or taking a more holistic unified commerce platform approach.
We'll look at how technology is changing retail, including recent research and emerging trends, and share specific considerations to inform your retail chain's journey toward unified commerce success.
Retailers are Working Hard to
Deliver Unified Commerce
It is clear that the unified commerce tipping point has occurred: August 2022 research from RIS News affirmed that 64% of retailers are now invested in the unified commerce space. This research also points to a receptive environment for related retail technology investments – 47% of the retailers surveyed reported that their organization has a high level of buy-in for implementing unified commerce.
This enthusiasm is driven by both consumer demand and the bottom line: Studies by Gartner reveal that organizations embracing unified commerce will experience a 20% uplift in total revenue by 2025.
Retailers are spending aggressively across retail categories to deliver omnichannel and unified commerce capabilities. The January 2023 Store Experience Study by RIS News states that since 2014, IT spending growth for retailers has increased by 39.2% for the retail enterprise and 36.5% for retail stores. This means that retailers have spent more robustly than the traditional practice of tying annual IT budgets to a percentage of prior-year sales.
The value achieved through retail technology investments becomes increasingly critical as retailers continue to adapt to evolving consumer needs and changing market conditions.
Is Unified Commerce Possible

Without a Unified Technology Platform?

While achieving unified commerce without a centralized platform is technically possible, it requires costly and ongoing integration of various systems and operational processes and delivers sub-par results. As many retailers are experiencing, this can be particularly challenging as new capabilities are delivered or existing systems and processes are updated. These challenges present significant roadblocks for many retail organizations.

Although the concept of unified commerce has caught fire, many retailers still need to bring it into reality. The August 2022 RIS News research indicates that only 3% of retailers are confident they're providing a "truly unified experience," with 23% feeling they are close, 60% identifying their unified delivery as a "work in progress," and 13% caught in a struggle and far from achieving unified goals.

The challenges that arise as retailers try to simulate a unified experience are never-ending. The Store Experience Study 2023 shows that many chains are managing essential capabilities such as POS, self check-out, and BOPIS with separate solutions at vastly different maturity levels — with some tools working sufficiently now. Still, others are targeted for upgrades in the coming years.

It is clear that the legacy practice of integrating a stack of single-point retail technology solutions is complex, making it challenging to achieve unified commerce success.
Is Unified Commerce
Your Opportunity for Differentiation?
Many retailers are on the omnichannel path aimed at being "good enough," playing defense, and trying to catch up to competitors. The problem is that "good enough" is only temporary, and retailers must constantly innovate and improve to stay ahead of the curve.
Leading retailers realize that unified commerce is more than just an approach or concept. It's a strategic technology framework that changes the game by helping retailers accelerate their path to unified commerce and achieve continuous innovation and improvement. Freed from the technical complexity of traditional retail software solutions, these retail leaders can focus on their customers and business.
With a unified commerce platform, retailers have a single, robust, centralized platform that manages all aspects of their retail operations. This eliminates data silos and provides a consistent and seamless experience for customers and associates, ultimately increasing customer satisfaction, loyalty, and revenue.
Moreover, a unified commerce platform can provide agility and decisiveness at a time when these qualities are increasingly important. Unified retailers make faster and more informed decisions by having a single source of truth on each product and each customer. Importantly, this helps them respond quickly to changing market conditions and customer needs.
In short, a unified commerce platform is designed for retailers aiming for greatness, playing offense, leading the pack, and positioning themselves for whatever comes next. It's both a concept and a technology framework that helps retailers achieve continuous innovation, improvement, and success in today's rapidly changing retail environment.
3 Considerations

to Help You Know When to Go Unified

As a leader of a retail organization, you may be weighing the continued work of juggling point solutions against the strategic and more ambitious move to a unified commerce platform. FieldStack's CEO and former retail executive, Brett Wickard, offers three criteria to help you know when to consider a unified commerce solution.
FieldStack CEO, Brett Wickard, on moving your business forward with a Unified Commerce Platform
The Hamster Wheel:

Do you plan to launch or enhance individual capabilities in the future?

You've prioritized your technology investments and chosen your next projects. Let's say you're focused on creating a holistic view of each customer's interactions and behaviors and using this data to provide exceptional personalized experiences. You're not alone — the August 2022 RIS News research found that 54% of retailers consider "personalizing customer experiences" a top priority. So, you seek data integration software to pull from and push to your POS, e-commerce, and loyalty software.

At the same time, you have other top priorities. Maybe you're like the 52% of retailers who want to guarantee inventory visibility or the 47% who seek to empower store associates. Line up these enhancements, and a picture emerges of a never-ending hamster wheel—another year of technology evaluations and piecemeal implementations, often supplemented with manual workarounds as you deliver these new capabilities.

If this sounds familiar, it is time to consider a unified commerce platform. You'll gain a holistic view of your operation and real-time insights into customer behaviors. You'll update your highest-priority capabilities through a single implementation, often in less time than it takes to evaluate your next point solution. And you'll receive continuous enhancements through ongoing cloud updates.

With a unified commerce platform, you'll eliminate the need for ongoing vendor evaluations, new system roll-outs, and complex integrations.
The Domino Effect:

Are you implementing a single-point solution that creates a need for accommodations across your software stack?

You've probably implemented buy-online pickup in-store, curbside, or in-store returns of web orders. Or, you may be considering same-day delivery to satisfy customers who have become accustomed to this service at big-box stores. Or you may be dipping your toes into the resale market. As you look at new or enhanced single-point solutions to facilitate these new functions, you realize they require dramatic customizations in other systems while also clashing with your operational flows.

You start to see the technology dominoes tipping as your decision to upgrade one capability reverberates across your software stack and operational footprint. You will get through this complex process only to wrestle with your next single-point solution implementation. Or perhaps you realize that these investments aren't delivering on their promises, so you decide to stop investing because things are "good enough."

If your retail chain is tiptoeing around a delicate stack of technology dominoes, it is time to consider a unified commerce platform. This is particularly relevant if you're considering upgrades or enhancements to your POS system since it's a critical component of any customer-centric retail operation.

When all your tech capabilities are purpose-built to work in a seamless, unified, lean flow, your technology infrastructure and retail chain will have adaptability, strength, and resilience.

A unified commerce platform will help you move toward customer-centric operational processes while eliminating complex software integrations and manual workarounds.
Layers of Management:

Do you need additional technology to manage your technology?

A cottage industry of software providers has emerged from the legacy retail practice of cobbling together technologies: the software that manages your software. These solutions claim to integrate disparate products by forging an interface between them and that promise to act as a central data-transfer solution. Others help give you a view into complex technical infrastructures.

This strategy can be a technology mirage, often leading to unrealized promises. Retail brands are often distracted and dissuaded from adopting new, in-demand capabilities that can't easily fit within their complicated infrastructure. If you are using software to attempt to tie together and manage your retail chain's unruly software, it is time to consider a unified commerce platform.

With a unified commerce platform, you'll enjoy the benefits of modern technology without the distractions.
You Want to Accelerate Your Path to Unified Commerce.
What's Next?
By now, you've asked yourself some important questions. You're inspired by the trends, wary of your competition, and re-evaluating your unified commerce strategy. How do you find the right unified commerce platform and evaluate its fit with your organization?
First, it's important to note that many software vendors say "unified" but instead deliver some version of "omnichannel." A truly unified commerce platform such as FieldStack efficiently provides advanced capabilities like those below, with the confidence and ability to scale as your business grows:
Seamless shopping, purchasing, and fulfillment across your chain, with an array of omnichannel shopping and fulfillment capabilities, including BOPIS, curbside, same-day delivery, and ship-from-store.
Robust and blazing-fast POS that empowers your employees to deliver exceptional customer experiences and the flexibility to utilize self check-out.
Integrated eCommerce with real-time product visibility, marketplace integration, and a customer-centric loyalty program.
Streamlined warehouse and inventory management allowing you to dynamically manage your product levels and mix by store and automate replenishment based on predictable sales velocity.
Real-time customer and operational data to inform better decisions, leverage machine learning and AI, and reduce labor and inventory costs.
And more.
These capabilities are designed and built within FieldStack, the leading unified commerce platform for mid-market and regional retail chains. With FieldStack, you'll experience the agility and adaptability that keeps you ahead of your competitors.
Before signing up for another point solution demo, we invite you to enjoy FieldStack's free online Lean Retail Web Class to see how you can harness your competitive advantage.
From there, we'll work with you to validate the impact of unified commerce on your business.
Our dedicated team will configure the platform for your organization, train your team, and complete the implementation in as little as 18 weeks.
With our unique shared success partnership model, we'll be side-by-side with you at every step to ensure you get the value you expect from the FieldStack Lean Retail Platform.
Thank You

for Reading

We wish you the best and invite you to explore FieldStack as your unified commerce platform. For questions, we encourage you to reach out or schedule a call. We look forward to helping you evaluate whether FieldStack is right for you.
Executive Guide
FieldStack's
Executive Guide

to Lean Retail Software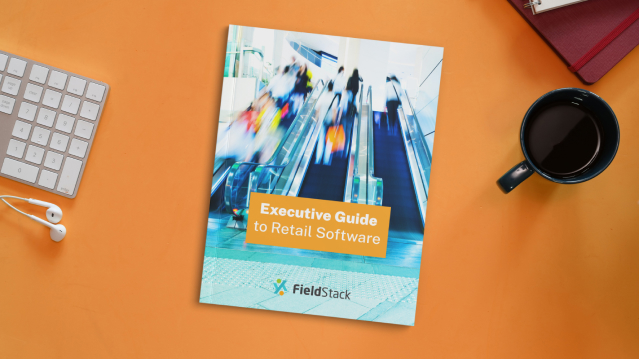 View the Guide
Lean Retail Platform
A Lean Retail Platform - Built by Retailers, for Retailers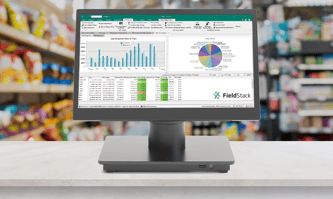 Discover Lean Retail