3 Signs That It's Time to Consider a Unified Commerce Platform

If you're one of the many retailers evaluating your technology investments, then you understand just how overwhelming the options can be. While there are many software solutions and providers to choose from, most retailers will go one of two ways:
1. The traditional approach of acquiring and integrating single-point solutions into an existing tech stack
2. The modern approach of replacing a cobbled tech stack with a more holistic unified commerce platform
In this article, we'll share some key considerations for retail leaders determining their strategic software direction. We'll cover the transformative impact of a unified shopping experience, whether or not you need a unified platform to achieve it, and how it can give your retail chain a competitive edge. Finally, we'll share the 3 signs to help you know when it's time to go unified, plus some tips for getting started.
IN THIS ARTICLE
Why Retailers Need a Seamless and Unified Experience
How Unified Commerce Can Become Your Chain's Competitive Differentiator
Whether or Not You Need a Unified Tech Platform for Unified Commerce
3 Signs that It's Time for a Unified Technology Platform
How to Accelerate Your Path to Unified Commerce
The Need for a
Seamless and Unified Shopping Experience
Today's consumers demand a seamless shopping experience. In a study by McKinsey & Company, 75% of shoppers said they expect a smooth omnichannel experience, while only 25% were happy with the experience that retailers are providing. The same study revealed that omnichannel consumers are at least 1.25x more valuable than single-channel shoppers. Considering the profit potential, retailers can't afford to ignore this trend toward seamless omnichannel.
While an omnichannel approach may provide an adequate customer experience across channels, it's a mess in the back end for retailers. This is where unified commerce comes in.
Unlike omnichannel alone, unified commerce creates a consistent and seamless customer experience across channels by connecting the back-end core retail systems. More retailers are seeing the need for a unified commerce system that goes beyond a multichannel or omnichannel approach. In fact, a recent RIS Targeted Research report indicated that 64% of retailers are now invested in the unified commerce space.
Is
Unified Commerce

Your Retail Chain's

Opportunity for Differentiation?

The retail landscape is increasingly competitive. But many retailers are on the omnichannel path aimed at being "good enough," playing defense and trying to catch up to competitors. The problem is that "good enough" is only temporary, and retailers must constantly innovate and improve to stay ahead of the curve.

Unified commerce can set you apart from other retailers because it's more than just an approach or concept. It's a strategic technology framework that changes the game by accelerating the path to unified commerce and helping retailers continuously innovate and improve their operations. Freed from the complexity of traditional retail software solutions and ongoing integrations, retailers that adopt unified technology can focus on their customers and business.
With a unified commerce platform, retailers have a single, robust, centralized platform that manages all aspects of their retail operations.
With a unified commerce platform, retailers have a single, robust, centralized platform that manages all aspects of their retail operations. This eliminates data silos and provides a consistent and seamless experience for customers and associates, ultimately increasing customer satisfaction, loyalty, and revenue. Unified retailers make faster and more informed decisions by having a single source of truth about each product and each customer. Ultimately, this helps them respond quickly to changing market conditions and customer needs.
In short, a unified commerce platform is designed for retailers aiming for greatness, playing offense, leading the pack, and positioning themselves for whatever comes next in the ever-changing retail industry. It's both a concept and a technology framework that helps retailers achieve continuous innovation, improvement, and success in today's rapidly changing retail environment.
Is Unified Commerce Possible Without a
Unified Technology Platform?
While achieving unified commerce without a centralized platform is technically possible, it requires costly and ongoing integrations of various systems and operational processes. Unfortunately, this often delivers sub-par results. As many retailers are experiencing, it can be particularly challenging as new capabilities are delivered or existing systems and processes are updated. These challenges present significant roadblocks for many retail organizations.
Although the concept of unified commerce has caught fire, many retailers still struggle to bring it into reality. The same RIS Targeted Research report mentioned above indicates that only 3% of retailers are confident they're providing a truly unified experience, with 23% feeling they are close, 60% identifying their unified delivery as a work in progress, and 13% caught in a struggle and far from achieving unified goals.
The challenges that arise as retailers try to simulate a unified experience are never-ending. The Remodeling Retail Store Experience Study 2023 shows that many chains are managing essential capabilities such as POS, self check-out, and BOPIS with separate solutions at vastly different maturity levels — with some tools working sufficiently for now. Still, others are targeted for upgrades in the near future.
It's clear that the legacy practice of integrating a stack of single-point retail technology solutions is complex, making it a challenge for retailers to achieve unified commerce success.
3 Signs

that It's Time for a
Unified Technology Platform
When should you implement a unified strategy? You've likely made significant investments in your software stack already. It can feel daunting to start over with a new platform. However, once you make the switch to a unified platform like FieldStack, you can rest assured that it will be the last core systems upgrade you will ever need. Updates across our unified retail systems are made in the cloud, eliminating the need for the ongoing cost and complexity of selecting, integrating, and maintaining disparate systems.
As you weigh the continued work of juggling point solutions against the strategic and more ambitious move to a unified commerce platform, consider this advice from retail industry leader Brett Wickard:
Brett Wickard (FieldStack Founder & CEO), shares three critical moments for retailers to make the switch to a unified commerce platform.
1.

You plan to launch or enhance individual retail capabilities in the future

AKA: The Hamster Wheel

In this case, you've prioritized your technology investment and chosen your next projects. Let's say for example that you want to create a holistic view of each customer's interactions and behaviors and use this data to provide personalized experiences. So, you seek data integration software to pull from and push to your POS, eCommerce, and loyalty software. At the same time, you likely have other top priorities. Maybe you want to guarantee inventory visibility or tackle labor challenges by empowering your retail associates.

Each one of these initiatives represents another year (or more) of technology evaluations and piecemeal implementations, often requiring manual workarounds as you deliver the new capabilities. The more individual retail capabilities you add, the more it begins to feel like you're on an endless hamster wheel just trying to keep up.

If this sounds familiar, it's time to consider a unified commerce platform. You'll update your highest-priority capabilities through a single implementation, often in less time than it takes to evaluate your next point solution. And you'll receive continuous enhancements through ongoing cloud updates. With a unified commerce platform, you'll eliminate the need for ongoing vendor evaluations, new system rollouts, and complex integrations.
2.

You have a single-point solution that creates a need for accommodations across your software stack

AKA: The Domino Effect

Many retailers find themselves in a situation where they are looking to add a single-point solution to their tech stack to accommodate a new retail function. Currently, there are an overwhelming amount of point solutions made to handle just one piece of a retail operation like point-of-sale, BOPIS, curbside, in-store returns of web orders, same-day delivery, inventory management... You name it.

The problem with adding single-point solutions to your tech stack is the effect each one has on the other. An upgrade to one system or the implementation of another impacts everything in the stack. These disparate systems cannot exchange data or work in unison when the tech stack is cobbled together. This domino effect results in a disjointed experience for customers and frustrating work challenges for employees.

If your retail chain is tiptoeing around a delicate stack of technology dominoes, it's time to consider a unified commerce platform. This is particularly relevant if you're considering upgrades or enhancements to your POS system since it's a critical component of any customer-centric retail operation. When all your tech capabilities are purpose-built to work in a seamless, unified, lean flow, your technology infrastructure and retail chain will have adaptability, strength, and resilience.
3.

You need additional technology to manage your existing or legacy technology

AKA: Too Many Cooks in the Kitchen

An entire industry of software providers has emerged from the legacy retail practice of cobbling together technologies: the software that manages your software. These solutions claim to integrate disparate products by forging an interface between them and promise to act as a central data-transfer solution. Others help give you an overview of complex technical infrastructures.

This strategy often leads to unrealized promises. The additional technology meant to simplify your tech stack can add another layer of complication. In addition to the existing software in your stack, now you have another interface, software provider, and extra costs to manage. The complication of adding more point solutions to the managing technology can dissuade or distract retailers from adopting new, in-demand capabilities that won't easily fit within their complicated infrastructure. In an attempt to simplify the technology, retailers find themselves in a situation where they have too many cooks in the kitchen... meaning too many different systems for their operation.

If you're using software to attempt to tie together and manage your retail chain's unruly tech stack, it's time to consider a unified commerce platform. With a unified commerce platform, you'll enjoy the benefits of modern technology without the complications. A unified commerce platform eliminates the complex integrations and manual workarounds of disconnected software without the need to add another software provider to the mix.
Ready to Accelerate

Your Path to Unified Commerce?

By now, you've weighed the benefits of a unified commerce strategy and have considered whether the timing is right for your retail operation to make the switch. But how do you find the right unified commerce platform for your organization?

Before you begin your search, it's important to note that many software vendors claim to be "unified" but instead deliver some version of "omnichannel." A truly unified commerce platform such as FieldStack combines core retail systems that are built to work together with real-time data flowing throughout. The platform should give you the confidence and ability to scale as your business grows while efficiently providing advanced capabilities like the ones listed below:
Seamless shopping, purchasing, and fulfillment across your chain, with an array of omnichannel shopping and fulfillment capabilities, including BOPIS, curbside, same-day delivery, and ship-from-store.
Robust and blazing-fast POS that empowers your employees to deliver exceptional customer experiences and the flexibility to utilize self check-out.
Integrated eCommerce with real-time product visibility, marketplace integration, and a customer-centric loyalty program.
Streamlined warehouse and inventory management allowing you to dynamically manage your product levels and automate replenishment based on predictable sales velocity.
Real-time customer and operational data to inform better decisions, leverage machine learning and AI, and reduce labor and inventory costs.
These capabilities (and more) are built within FieldStack, the leading unified commerce platform for mid-market and regional retail chains. With our platform, you can experience the agility and adaptability to keep you ahead of the competition.
Additionally, with our unique Shared Success Partnership Model, we'll be side-by-side with you at every step to ensure you get the value you expect from a unified commerce platform.
Interested in discussing how our unified platform can transform your retail operation?
Schedule a free consultation. We look forward to helping you evaluate if FieldStack is the right platform for your business.
Executive Guide
FieldStack's
Executive Guide

to Lean Retail Software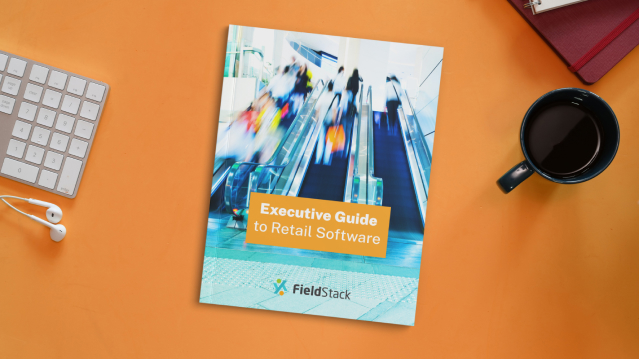 View the Guide
Lean Retail Platform
A Lean Retail Platform - Built by Retailers, for Retailers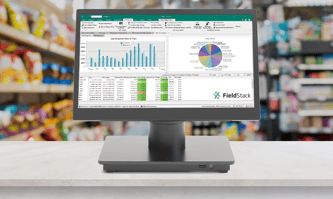 Discover Lean Retail