Top Trends in Pet Retail from SuperZoo 2021

FieldStack attended SuperZoo 2021 from August 16-19 in Las Vegas and we were proud to exhibit at North America's premier pet industry trade show once again. This post shares eight top trends in pet retail discussed at the show.
The FieldStack team had a great time connecting with current and future clients at our booth! We gave demos, handed out swag, attended lectures, and learned something from everyone we met. A sincere thank you goes to the World Pet Association (WPA) for hosting an impactful event, despite COVID related challenges.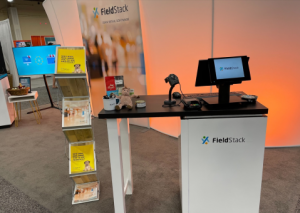 Read on for our eight top trends in pet retail from SuperZoo 2021.
Two presentations really stood out: Michael Johnson of FINN CADY Strategy & Brand gave a wonderful overview of the current state of the U.S. pet market for the WPA. Also, IndiePet gave their first SuperZoo presentation, which included insights from Scott Dicker, Data Analyst at SPINS Pet Trends.
The list below was inspired by those sources, other pet specialty leaders, and just plain good conversations we had at the event. So let's dig in…
What's New and Next for Pet Retail?
1. Pet ownership is growing — a lot
A whopping 18% of Americans adopted a new pet during the pandemic, including 24% of existing pet owners. Michael Johnson of FINN CADY shared that there are 85 million pet-owning households in the U.S. and adoptions were up in 2020 by about 20%. Now, 60% of households own a dog, 40% own a cat, and many have both.
2. Pet retail is growing, too
Pet product sales grew through the pandemic. This was driven partly by stockpiling early on, but the growth continued. According to IndiePet, retail sales of pet food, treats, and supplies surged to $66.9 billion in 2020. This represented a 15.8% year-over-year increase and more than double the predicted growth!
3. The pet retail mega-growth was online
Brick and mortar pet retailers did grow in 2020 (at about 6% year over year), but online sales were phenomenal. IndiePet shared that internet pet product sales grew 46% in 2020, and online now represents 30% of U.S. pet retail sales. Pet e-commerce is predicted to represent 35% of total pet retail sales by the end of 2021. And the fulfillment of many online transactions will continue to involve the stores.
4. Independent pet retailers are catching up
SPINS affirmed that not all of the growth is with Chewy.com and Amazon. Independent and neighborhood pet retail chains are positioned to thrive as they adopt omnichannel retail management systems such as FieldStack. Having a unified commerce platform allows any retailer to compete in the new world of omnichannel pet specialty retail. And, the future is bright for those that do!
5. Omnichannel is here to stay
Apart from these stats, Superzoo itself was a study of how the world has changed through COVID. It was great to have in-person interactions again, yet a good number of folks attended virtually. Seeing how our pet industry community values a mix of online and in-person interactions, we can empathize with consumers who value a similar mix of channels.
6. Retail stores are destinations
Dicker's research highlighted one of many advantages neighborhood stores have over pure e-commerce; people like to visit them with their dogs. As owners get out with their dogs, they enjoy having a destination pet retail shop where they can drop in, buy treats, and more.
This desire for a destination experience is echoed in June 2021 pet owner research from Jungle Scout. "I like to be able to see the quality of the toys before I buy," said one pet owner. "I also love taking [my dog] with me so she can choose something for herself!"
7. Neighborhood pet stores are hubs for pet wellness
Dicker's research showed that neighborhood pet stores enjoy a significant edge in pet wellness products. Specifically, independent pet chains saw 17% growth in wellness product sales in 2020, compared to just 2% growth in this category at regional grocery stores.
Pet wellness is a clear top trend in pet retail, as pet parents increase purchases of everything from organic dog food, to vitamins, to stress relief supplements. Consider this: sales of CBD pet supplements grew 34% in 2020. And customers prefer to make this purchase at a neighborhood chain. Independent pet specialty retailers are taking note.
8. Your product attributes position you for insights and growth
I was thrilled to hear Scott Dicker of SPINS highlight something else that we at FieldStack believe: It is crucial for retailers to tag their catalog products across an array of attributes, to best understand customer needs.
For example, if you identify cans of dog food as only dog food in your system, then your e-commerce and POS searches will be jumbled and unusable. And, your post-purchase data won't be illuminating. If you define a can of dog food as organic, grain-free, chicken-flavored, intended for large dog breeds, canned, and dog food, then over time, you will understand the degree of interest in each niche attribute. This may seem technical, but it offers an important pathway to deep customer understanding.
It's exciting to participate in an event like SuperZoo that supports and empowers independent retailers. Now, let's keep this growth going! In the coming days, I'll continue reconnecting with many of you who I met at the show. Together, we will take good care of all of our furry friends out there — and their owners!
Tags: