Reopening Retail: The Pandemic Checkstand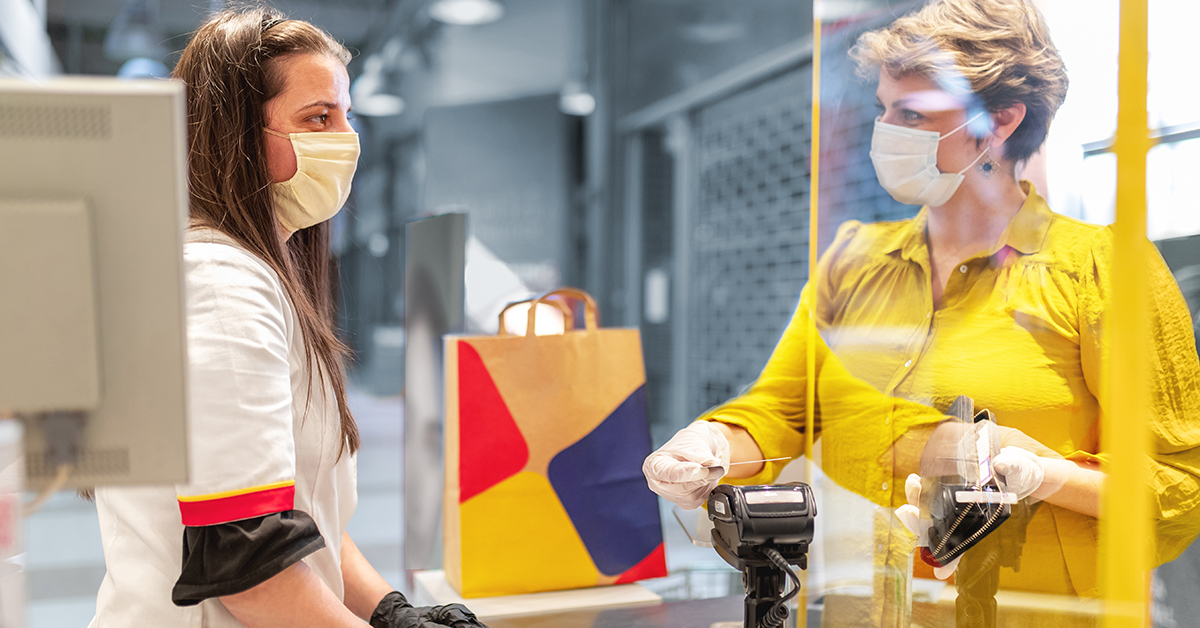 At the time of this writing, leaders are discussing how to reopen the economy during the coronavirus pandemic. FieldStack is focused on helping retailers adapt and survive the uncertainty of this crisis, regardless of when and how the economy reopens. Reopening Retail is a series where we'll explore ways to serve your customers better and keep your retail business resilient in the mid- and post-pandemic world. Visit the CDC's coronavirus website for official guidance and resources for business and employers.
Our first post in the series explores the elements of a safer, more sanitary, pandemic retail checkstand (or checkout, cash wrap, Point of Sale — you're preference). Purchasing is the moment in the traditional in-store retail transaction where social closeness has been required. So how can we do it with social distancing?
Ensure Safety, Address Fears
While the strategies we discuss here are designed to improve safety, it's important to note that making such changes clearly and visibly also supports the emotional needs of shoppers.
A recent Gartner survey found that a top concern shared by consumers is that other people will act against public interests by hoarding and by disregarding social distancing (March 30, 2020). By establishing authority over shopper behaviors in your stores, and by visibly presenting your commitment to health, you will show customers that you share their concerns.
Plus, making these accommodations will also help protect your valuable human resources — the front-line staff who have suddenly become the heroes of our society.
This is a clear opportunity to build trust with employees and customers — by doing the right thing.
Social Distancing Requires Distance
Space is a luxury in retail — we measure success by sales per-square-foot. But in the post-pandemic world, stores can't let the perfect get in the way of the good. It's time to make space at your front-of-store, if possible.
If you can renovate, consider

adding room between your cash-wraps

. If you can't afford to modify your physical plant, consider an approach where

every-other checkstand is closed

at any given time. This will put space between people and give you a chance to clean better — if you alternate usage each hour between checkout counters 1 and 2, staff can do a deep clean of the counter that is temporarily closed.

Install a sneeze guard on each checkstand

— a plexiglass barrier to protect your team and your customers, and to minimize customer contact with store surfaces. If you can add some extra space around each checkout counter, it will afford everyone a little room to navigate around the new sneeze guard layout.

Add social distancing floor markers

to show customers proper spacing for checkout lines. This is a simple, affordable way to clarify accepted behaviors, and it enables customers to police themselves (and each other).
The Touchless Credit Card Terminal
If you haven't already upgraded your credit card terminals to touchless, now is the time to do it. Eliminating the need to hand cards back and forth is critical.
At the pharmacy the other day, I found myself grabbing a circular, ripping out a page, and using it as a germ barrier to press the buttons on the payment terminal. That doesn't have to happen!
A contactless credit card payment supports a healthy shopping experience — and it's possible. You really must use "touchless transaction" credit card terminals.
For example, FieldStack's credit card processing partner TSYS offers mounted credit card readers that are equipped to accept payment via credit card chip, tap to pay, Apple Pay, Google Pay, Samsung Pay, and other means. If there are any decision points in the purchase, your cashier can ask the customer for the answer and enter it in the primary POS device.
Plus, customers don't have to sign anything, anymore. Credit card companies stopped requiring signatures some two years ago. So, we recommend turning off the signature requirement for all transactions.
FieldStack's retail management software supports these all-touchless payments.
The only instances where contact might occur are PIN-based debit card transactions and cash. But, we recommend that you run all debit card purchases as credit, and consider a no-cash policy. These are approaches that could limit access for some customers even as they improve safety, so if you adopt these rules, consider when you might make exceptions.
Sanitize for Sanity
We've all been washing our hands down to the bone, and now it's time to bring that commitment to clean to your checkstands. We have some ideas here, but you should rely on official guidance from the CDC to guide your sanitation practices.
Your

cashiers should be wearing gloves and masks

. If possible, have your team spray and wipe the checkstand surface after each purchase. Then, do a more extensive wipe-down periodically throughout the day.

Offer

hand sanitizer dispensers

along checkout lines, at the checkstand, and on the way to store exits. Perhaps place exit dispensers a small distance away to clear the cash-wrap area).

Provide

paper towels

for customers to use as needed. Place a

trash receptacle

nearby for easy discard (for your customers and your cashiers), and remove the trash regularly.
Remember, all of this will make your store clean while declaring your commitment to customers.
Moving Forward Together
We're all experiencing the loss, sadness, and stress of the pandemic, as individuals and as retail professionals. The road out of this is uncertain, and it seems clear that many things will be changed forever, or for a very long time.
But we believe that through creativity, determination, and compassion, the retail community can make it through this. We invite you to send us your ideas for future posts and to keep this conversation going. And, we wish you, your loved ones — and everyone — health and strength.
About FieldStack: FieldStack offers an integrated retail management system that optimizes retail chains of all sizes with the Lean logic and advanced computing used by leading global brands. FieldStack combines automated inventory, point of sale, e-commerce, and loyalty software to help retailers increase sales and streamline operations. Learn more about the only Lean Retail management system at FieldStack.com.
Tags: